Served in the heart of the Inn, Traditional Afternoon Tea has become a local favorite and a beloved attraction for visitors since the Inn opened.
The Inn on Negley Afternoon tea is styled after the traditional teas of the British isles as well as the more contemporary repasts served in hotel tea rooms across America and Europe. Tea is held in our intimate Victorian dining rooms where we encourage you to relax with friends and family or alone for some solitude. You will find an extensive selection of teas and tisanes from around the globe in addition to teas that reflect the seasons.
Our chefs emphasize freshness, seasonality and variety in the crafting of their unique menu offerings to keep our guests excited and satisfied. While at the same time supplying some of the comforting favorites that keep them returning.
We feature ingredients from Pittsburgh's most famous bakeries, butcher shops, and ethnic shops. While the menu is seasonal and changes weekly, guests will find such mainstays as vanilla crème scones, roasted chicken salad on homemade gougeres, petite quiches, decadent cheesecakes, lemon madeleines, and French macaroons.
Time
Wednesday-Sunday: 12pm-4pm
Price
$35 per person
Children's Afternoon Tea is $ 16 for ages 12 and younger
SPECIALLY PRICED FOR OUR GUESTS – Overnight guests of the Inn are invited to join us for High Tea as a wonderful respite to a busy day. $30 per guest in our lovely Fernwood Dining Room, or enjoy en suite for an additional $20. Reservation required by 9am on day of planned tea.
For Parties of 10-14 that are not Events: A Credit Card will be required to make the reservation. We request a final headcount the week of and any reduction or cancellation within 48 Hours of the reservation time will be subjected to a 30% fee per person not in attendance.
Menus
The Best Hot Chocolate in the City…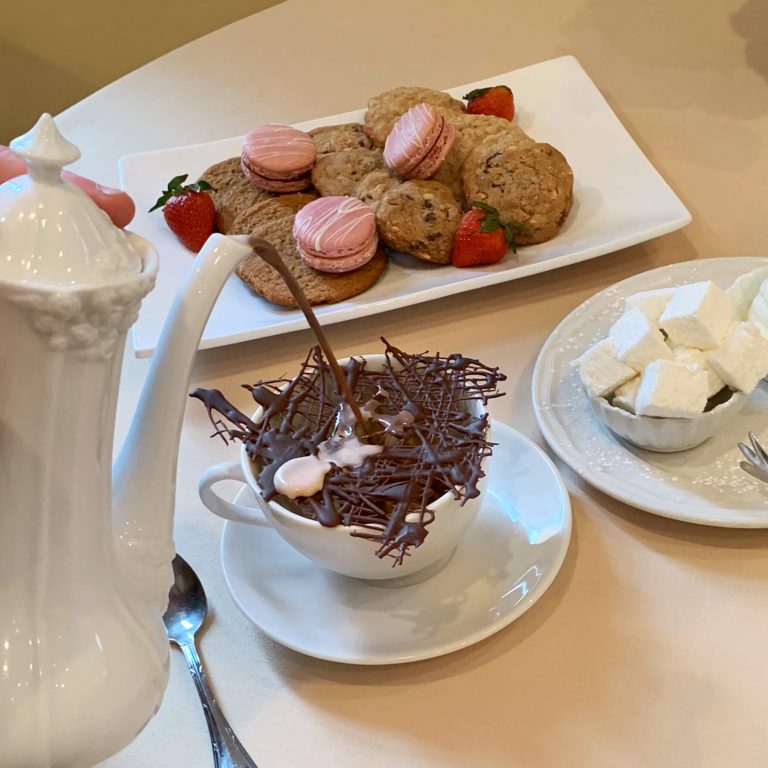 This velvety elixir of rich hot chocolate is made with Callebaut, Belgian's finest chocolate, and steamed milk.  Your hot chocolate arrives in a traditional French hot chocolate pot. After it's served tableside, the hot chocolate is poured into a mug topped with a dark chocolate lattice and a homemade marshmallow with sweet whipped cream nestled alongside. As the hot chocolate is poured, the chocolate lattice melts into the cup and the marshmallow makes the already-dreamy drink a creamy masterpiece. Perfect for adults and children!
The Inn on Negley offers Afternoon Tea for those with dietary restrictions – vegan, vegetarian and gluten-free options are available.
---